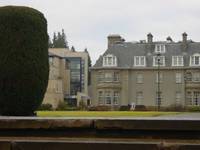 Gleneagles Hotel, Scotland
I've just been fooling around with "Hello", the photoblogging tool, which has kindly been offered to current webloggers.
Now I wouldn't say it is the most intuitive tool I've ever used, but I've managed to post a photo of the lovely Gleneagles hotel...
so it obviously works!
It has a neat re-sizing tool as well. I think I may be adding photos to my blog more regularly now! In fact, thinking about it, this may mean that I actually get around to updating the personal photo catalogue that is several months out of date.